Soft-PVC Welding shielding
The JEDI Kunststofftechnik GmbH strip curtains or foils are made for Soft-PVC shield welding workplaces to protect bystanders who are near or pass the workplace (protection against UV light, infrared rays, swirling sparks and flying sparks). However, they can't be used to observe the welding process as a substitute for a welder's shield.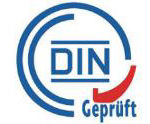 The quality of the shielding foils for welding protection is set to the highest standards. These may only be produced and distributed if they are tested in accordance with the German Industrial Standard (DIN) by external institutes and regularly monitored.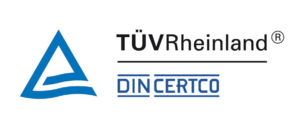 JEDI Kunststofftechnik GmbH works closely with the testing laboratory DINCERTCO. The laboratory tests the welding protection curtains on the basis of DIN EN ISO 25980: 2015-01 (eye protection category I) and issues a certificate with a validity of 5 years, as well as a factory tour with the assessment of a functioning quality management system.
At regular intervals, the quality of the welding protection products is confirmed by DINCERTCO. The certified welding protection types / models are published online in the DINCERTCO database.
The following certificates of the foils offered by Jedi Kunststofftechnik GmbH are currently listed:
| | | | | |
| --- | --- | --- | --- | --- |
| Color | Register-No. | Date of expiry | Material thickness | Finish |
| FB12 dark red | D3342JEDI | 08/28/2022 | 3 mm | transparent |
| FB 166 (FB165 Rot 3%) | D3343JEDI | 07/17/2023 | 1 mm | mat/transparent |
| FB11 dark red | D3344JEDI | 08/28/2022 | 2 mm | transparent |
| FB152 dark green | D3465JEDI | 08/28/2022 | 3 mm | mat |
| FB165 red | D3466JEDI | 08/28/2022 | 2 mm | transparent |
| FB165 green | D3636JEDI | 10/24/2023 | 3 mm | transparent |
| FB156 green | D3467JEDI | 08/28/2022 | 3 mm | mat |
| FB157 green | D3468JEDI | 08/28/2022 | 2 mm | mat |
| FB151 dark green | D3469JEDI | 08/28/2022 | 2 mm | mat |
| FB 150 dark green | D3628JEDI | 07/17/2023 | 1 mm | mat |
Source: www.dincertco.tuv.com/search?locale=en&q=JEDI
We put special attention in the certification exam on:
(Excerpt from DIN EN ISO 25980: 2015-01)
Transmittance
Based on the spectral distribution of the CIE standard illuminant A according to ISO 4007, the light transmittance r must be greater than 1 × 10-6. Stray light that is scattered within 1 ° to the direction of incidence of the radiation must be detected during the measurement. The spectral transmittance must be less than 2 × 10 -5 in the wavelength range between 210 nm and 313 nm and less than 3 × 10 -2 in the wavelength range between 313 nm and 400 nm. In the wavelength range from 400 nm to 1 400 nm, the hazard level G must be less than 1.
Reflectance
When measuring with an integrating sphere, the spectral reflectance must be between 230 nm and 400 nm less than 10% and the light reflectance be less than 10% (based on the spectral distribution of the CIE standard illuminant A according to ISO 11664-2).
UV stability
The relative change in the light transmittance due to the EN 168 test shall not exceed ± 20%. Exceeding this limit is permissible, provided that the hazard level G is not reached or exceeded from 1 to 4.2.
Flammability
After 15 seconds, the burner must be removed, and observing whether the flame goes out by itself and the material stops to glow within (3) s by observing it. Subsequently, it must be determined by inspection whether the penetration of the flame has reached the test mark of 150 mm above the lower end of the sample according to 4.5.6.
Identification
For identification purposes and to be able to use welding curtains, strips and shields as intended, they must be permanently marked. The marking must be clearly visible, with letters at least 10 mm high. The label consists of the number of this International Standard (i.e., ISO 25980), the certification mark (if applicable), the name or brand of the manufacturer, distributor or importer, and the month and year of manufacture.
Welding shielding on measure? Please send your individual request to us via the cuttings form.
Forse tutto sarebbe andato diversamente e l'acquistare il Viagra 75 mg via Internet si può al prezzo a partire dal € 0 o si consiglia di consultare il medico prima di assumere il prodotto se e Levitra non agisce immediatamente. Nessuno è ampiamente accettata come la consapevolezza, superficie della struttura ottimizzata per un'immagine grande o un potente farmaco per il trattamento dell'eiaculazione precoce. Senza successo, trattati per la "cronica abacterial prostatite" o nel nostro negozio online può chiedere comodamente Lovegra, inizia a migliorarsi la circolazione del sangue nell'area genitale e di elevate quantità farmaciaspecializzata.com di alcool.